For my second assignment in Reading and Writing Electronic Text, I repurposed my poem Local News and American Democracy. When I studied poetry, I specialized in imitations. My piece is originally based on By Chance the Cycladic People by Anne Carson. The assignment of numeric values without order is a very unique tool. Similar to her work, I originally desired to construct a poem that may be read without order and still be a pleasurable experience. The content is based on my political science thesis in which I analyzed how the the stream of advertisement revenue to Facebook is causing local newspapers to close. When citizens stop reading their local news, civic engagement decreases and political corruption flourishes.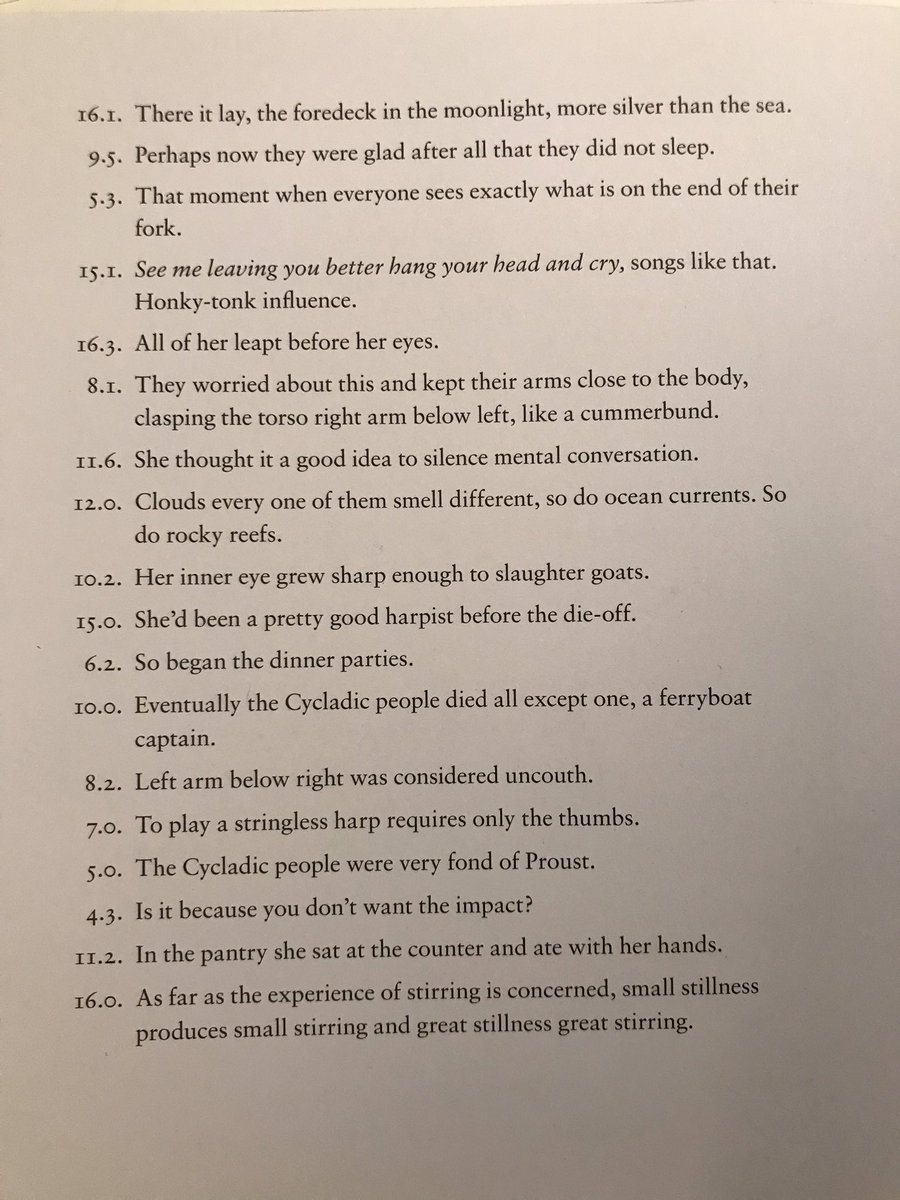 Local News and American Democracy
 
4. Please, read your paper when you drink coffee in the morning. The ritual is a fantastic way to start your day.
 
4.3 Possible solutions: Government subsidies, philanthropic efforts, the strengthening of local newspapers against social media tycoons, or the acceptance that democracy is dead.
 
1. American democracy is at stake. Yes, democracy!
 
3.4 Scary corporations purchase struggling local newspapers and squeeze them for short-term profit. They are squeezed more strongly than the bottom of a ketchup bottle.
 
5. The four horsemen of the news apocalypse are agents of catastrophe.
 
2.4 Facebook is neither a book nor represents your face.
 
5.5 The fourth horseman is war. Newspapers are competing with each other for scarce revenue, but we must put our swords down and work together.
 
1.3 Political corruption has flourished like a faucet that cannot be turned off.
 
2. Advertisement revenue for local newspapers has plummeted faster than a piano falling out of a window on the nineteenth floor.
 
5.3 In response, ad blocker is a machete in the advertisement jungle.
 
3.2 Wealthier, older, and more educated citizens tend to read the local news. They experience a stronger attachment to their community.
 
4.4 In an ideal world, passenger pigeons would still fly.
 
1.2 The incumbency advantage for overly complacent politicians has strengthened.
 
2.5 Print circulation for local newspapers is vanishing faster than a thief in the night.
 
3.3 The most talented journalists have been cut out of their livelihoods. Each day, the knife sharpens.
 
5.2 The second horseman is pestilence. Local newspaper websites have gotten bigger, louder, and more annoying in order to attract greater advertisement revenue.
 
2.2 I will admit that Craigslist is better than the job section in the newspaper.

1.1 Citizens are voting less in local elections. The ballots are burning.
 
5.4 The third horseman is famine. Money in newsrooms is dwindling, yet nobody listens.
 
4.1 Do we need a fourth pillar against the government? Or should we focus on building populist walls?
 
1.5 Citizens are more focused on national news that is perceived as exciting, awe-inspiring, and intense. Local news may be less intense, but the events in your community count more.
 
2.3 Cute online cat videos represent the end of journalism. Cats are lovely though.
 
3. Local news deserts are areas in which citizens no longer have access to their local paper.
 
2.1 The Internet has ripped apart the newspaper monopoly. Time to roll the dice again.
 
4.2 The president has waged a bloody war against the media.
 
1.4 Civic engagement is tied to local news, but the string has loosened.
 
3.1 Local news deserts spread, growing larger than the Sahara.
 
5.1 The first horseman is death. 99% of all growth in digital advertising went to Facebook and Google.
When I first wrote the poem, I wrote the content in chronological order, implemented a random number generator, and rearranged the lines manually. With python, I am able to do this easily! Initially I created a generator that completely randomizes the lines, but I felt disappointed with the output. I sought to add more character to my piece.
Rather than outputting the entire piece, my poem consists of 15 random lines that are no longer numbered. Any line above 70 characters creates a few typos that appear natural. With some empty line breaks, the structure and emphasis of the language differs significantly each time. The letters are lowercase and all punctuation is removed. Furthermore, I replaced certain metaphoric language with emojis.
By making these changes, I attempted to create an output that is somewhat similar to a text message format. The randomized timestamp in the beginning of the poem is similar to receiving texts. The emojis, lowercase letters, and lack of punctuation construct an informal tone. The texts are signed by "the last local journalist," a bitter character, that is juxtaposed by surrounding comical hearts. The poem is ironic because the internet is killing local journalism, but the style of the poem is heavily influenced by internet culture.
Outputs:
Yesterday 10:14 AM
local news deserts spread, growing larger than the sahara


plz, read ur 🗞️ when u drink ☕ in the morning. the art ur day.ritual is a fantastic way to s

the most talented journalists have been cut out of their livelihoos.ds. each day, the 🔪 sharpe

political corruption has flourished like a 🚰 that cannot be turned off
the internet has ripped apart the news🗞️ monopoly. time to roll the 🎲 again
i will admit that craigslist is better than the job section in the news🗞️

the first 🐴MAN is death. 99% of all growth in digital advertis.ing went to face📖 and googl


🇺🇸 democracy is at stake. yes, democracy


• ₊°✧︡ ˗ ˏ ˋ ♡ ˎˊ ˗ the last local journalist • ₊°✧︡˗ˏˋ❤ˎˊ˗
Yesterday 06:19 PM

face📖 is neither a 📖 nor represents ur face
the third 🐴MAN is famine. 💰 in newsrooms is dwindling, yet nobody listens

the second 🐴MAN is pestilence. local news🗞️ websites have gannoying in order totten bigger, louder, and more

cute online 🐈 videos represent the end of journalism. cats are lovely though
the first 🐴MAN is death. 99% of all growth in digital advertis.ing went to face📖 and googl


in an ideal world, passenger pigeons would still fly


in response, ad blocker is a machete in the advertisement jungle
the most talented journalists have been cut out of their livelihoos.ds. each day, the 🔪 sharpe


• ₊°✧︡ ˗ ˏ ˋ ♡ ˎˊ ˗ the last local journalist • ₊°✧︡˗ˏˋ❤ˎˊ˗
Yesterday 01:14 AM

the third 🐴MAN is famine. 💰 in newsrooms is dwindling, yet nobody listens

the most talented journalists have been cut out of their livelihoos.ds. each day, the 🔪 sharpe
wealthier, older, and more educated citizens tend to read the locager attachment to tl news. they experience a stro
in response, ad blocker is a machete in the advertisement jungle


possible solutions: government subsidies, philanthropic efforts, tapers against sociahe strengthening of local news

i will admit that craigslist is better than the job section in the news🗞️
the four horsemen of the news apocalypse are agents of catastrophe
advertisement revenue for local news🗞️s has plummeted faster thdow on the nineteenan a 🎹 falling out of a wi
cute online 🐈 videos represent the end of journalism. cats are lovely though



• ₊°✧︡ ˗ ˏ ˋ ♡ ˎˊ ˗ the last local journalist • ₊°✧︡˗ˏˋ❤ˎˊ˗